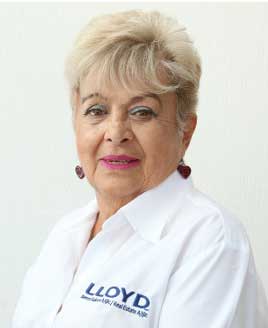 Cecilia Hernandez
Company Agent at: Lloyd Real Estate Ajijic
---
Lic. Cecilia Hernandez
Nací en La Cd. De México, donde también realicé mis estudios universitarios en la U.N.A.M, recibí el grado de licenciada en Geografía y una maestría en manejo y economía de los recursos naturales.

Trabajé en la facultad de economía de la U.N.A.M. como catedrática
Realice investigaciones para el gobierno de México, en recursos naturales.
 
Posteriormente me traslade a Guadalajara donde trabaje en la Facultad de Ciencias de la Tierra, de la UDG.
 
Mi ideal era vivir en la Rivera de Chapala a donde me mudé en el año 2000.

Aquí he vivido desde entonces disfrutando este paraíso, un rincón de México sin igual gracias al hermoso clima y a la naturaleza que lo rodea.
 
Si usted desea vivir o invertir en esta zona, permítame mostrarle lo maravilloso de estas tierras, con mi experiencia y conocimiento del lugar le aseguro que vamos a encontrar su propio pedacito de paraíso.


Lic. Cecilia Hernandez
I was born in City Mexico, where I also did my university studies in the National Autonomous University of Mexico, I received a degree in geography and a master's degree in management and economics of natural resources.

I worked in the Economics Faculty of this University as a professor, conducting, and research for the government of Mexico, on natural resources.

Later I moved to Guadalajara where I worked in the Faculty of Earth Sciences, of the UDG.
My ideal was to live in the Lake Chapala area, where I moved in 2000.

Here I have lived since then enjoying, this paradise, a corner of Mexico without equal thanks to the beautiful climate and the nature that surrounds it.

If you want to live or invest in this area, let me show you the wonderfulness of these lands, with my experience and knowledge of the place I assure you that we will find your own piece of paradise.